If you have not heard the news Travis Barker and DJ AM were critically burned after their plane crashed.Lil Chris (Travis'assistant) did not survive. Please say a prayer for all involved.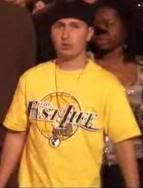 Lil Chris Baker..... Our Condolences to the Family and friends of LIL CHRIS...
DJ AM & Travis Barker.....
Travis Barker and singer-song artist Adam "DJ AM" Goldstein were in critical condition with extensive burns Saturday after a jet crash that killed four people, authorities said.
Doctor expects full recovery for 2 in fiery crash.....
Lets Keep Dj Am & Travis Barker In our Prayers....