Today was a fun day, instead of hiring some over priced model to come fit our shit we decided to involve the The Kids who shoppe at BFS, Much to our surprise these kids were eager and down to start posing for the Camera haaa...
Thanks to each and everyone of them .... here are some of the shots, a lot more shots posted later, so kids who aren't up yet please don't blow up my myspace lol !!
BFS
SHOP LOCALLY.....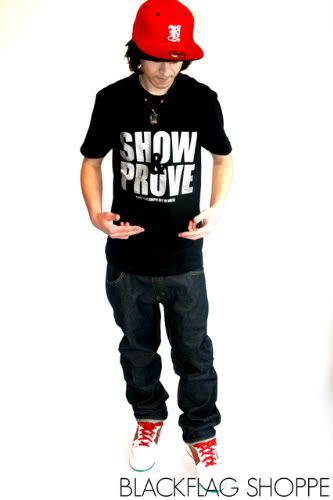 B.Rod is Rockin "Show & Prove Tee by BlackFlag Shoppe,Rich Yung Fitted,Cheap Monday Jeans,Crooks & Castle Belt, Nikes
Lil Spiro rocking BFS Tee,The Hundreds Shades.... Lil Man rockin BFS Fitted,"Bless The Real hoodie"by BFS.....
Bryan Rockin BFS Tee,New Era fitted,Levis, and Nikes on his feet......
Allen Rockin FREE GOLD WATCH Poster GirlTee, Crooks & Castle Fitted, Levis & Nikes on his feet....