We regret to Inform you that THIS morning I had to LET GO of my Top Dog...... We caught KIMBO BFS's Chief of OUR Homeland Security Pissy Drunk,I mean howling the blues Drunk,something about His IDOL KIMBO SLICE GETTING KNOCKED THE EF OUT, I must admit I am and will always be a bad example to my lil homie,but this is unacceptable MORE SO that it was my LAST two CERVEZAS homez..... Damn.....How could you after all the episodes of Dog Whisperer, all the episodes of Good Dogs Gone Bad, Go Figure.... my last two "Peroni's".... Official beer of BFS... Just incase you wanna hook a brother up!!!
Not quite sure,but We believe the tune he was Howling at the time was "Aint No Sunshine"
Just look at him, Having himself a good ol time lol
When asked What do you have to say for yourself? KIMBO replied "TAP THE BOTTLE & TWIST THE CAP"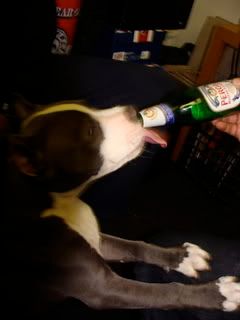 so I did,.....After pouring some out for my homies who aint here, we split the last Peroni...
Having fun.....
BFS
TRUE HOLLYHOOD STORY......
To Be Continued......