More Brooklyn Ishhh.... BFS headed out on a road trip for the On Location Video shoot of Jay Wise of Corp Cartel "Foolish Things".... The atmosphere was dope & the Music was Bumping all the ingredients of a dope Shoot, check out some of the Pics....
BFS
SHOP LOCALLY....
Shout out To High Society Films.....
You can see Big O in the Back calling out the scene selection lol maybe not...
The Kid Montana, The Homie Joe Baron, Chaos & El.KaB@nG....
Stylist Tito & CP of The Meters, did a great Job of making sure JayWise was laced from the floor up. Pleasure meeting the both of you, def will be in touch.. stay on Top!
Shout Out to The Director Marlom,(not Shown) Big Ups To Producer Maria, & PM Brian..... great Job!!
The Fly Girls..... Thanks to Jesse Jess Of Diaz Family Enterprises
Chaos & Kid Dancer courtesy of Jesse Jess....
JayWise in one of his many outfits for the Video.....Im sure Josh Of Dirty Jax will appreciate this PIC....
JayWise Slick Rickin it Up......
The B.WOOD... OK ....
The Corp Cartel....
The BlackFlag Shoppe Getting Some Video Burn Haaa Check K@BoNg...... We now officially will be managing his Career!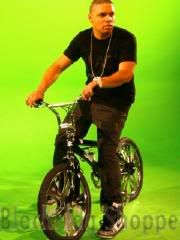 The BlackFlag Shoppe's Bike Getting some Burn....
Thanks to All the Great people we met Along the way.....
Speacial Thanks to Jaywise,Chaos,Montano, & Ashley (The Corp Cartel) for inviting us to document the Behind the scene Extra's......
PEACE
BFS