Yes Sir... One word ... KILL ! His Name is Kimbo and he's the Koolest lil pit ever, as much as I trained his 8 week old life to Kill everything in sight, he prefers to lick any and all persons he comes across, so I put a stop to the endless training of Kill,Kill.Kill... and decided to listen to Kimbo .... he's more of a chillin lay back kind of dude, he rather sit on BFS tee's and pose for the camera, So Hollyhood, I know .... He particularly has a thing for the Ladies, So Ladies come say hi and rub him where dogs loved to be rubbed???? .. Haaaa ...
Kimbos' Hours 12pm to 5pm he must be home in time to Catch Animal Cops, and Good pets gone Bad or.. he'll shit all over the crib to teach Me a lesson ... go figure !!
Well, now you know our security system is in place .... so come in peace or leave in pieces!
Peace BFS
Shop Locally !!
Disclaimer ... No animals(O) were in any way yelled at,kicked at,spat at,or received the infamous newspaper beat down in the making of this Blog .... !
Ay Yo.. who the *#ck let you in my office !!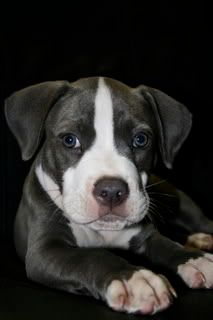 I thought so !!