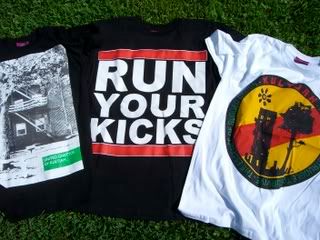 Thanks To Jahn and Jahmane of The Kultjah Lab, in between all of the people coming in and out of the shop, it's always great conversation with these two, we had the pleasure of visiting the shop late yesterday afternoon,If you haven't visited the shop I suggest you do, they carry all of your favorites such as Dc,Supra,Converse,DGK, Adidas, and a wide selection of Decks!!
Although they concentrate more on the Kultjah Lab brand you will find some of the illest up and coming Brands at the Shop!
Be sure to check out the Hit they got in Antenna Magazine Fall 2008 Issue .... What Drops Next in Tee's, section of the Mag !!
On That Note, stay tuned for The BlackFlag Shoppe x Kultjah Lab callab coming Soon!!
Kultjah Lab Tee's available @ The BlackFlag Shoppe!
Shop locally !!